Station House Five
Type
Police Station
Location
Toronto
Station House No. 5 is one of several stations operated by the Toronto Constabulary.
The station is the workplace of:
Appearances and Mentions
A constable assigned to Station House Five was killed in an argument by one of his fellow officers.
Stroll on the Wild Side (Part 1)
Stroll on the Wild Side (Part 2)
the constables compete with in a baseball game.
Gallery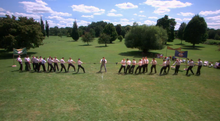 Ad blocker interference detected!
Wikia is a free-to-use site that makes money from advertising. We have a modified experience for viewers using ad blockers

Wikia is not accessible if you've made further modifications. Remove the custom ad blocker rule(s) and the page will load as expected.