Production Team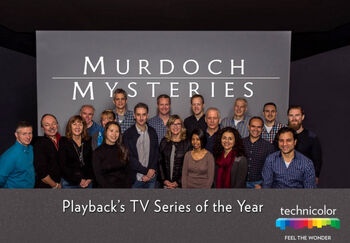 Murdoch Mysteries
is a Canadian historical crime drama series that is based on the characters from the
Maureen Jennings
' novel series.
Developed by R.B. Carney, Cal Coons and Alexandra Zarowny in 2008, the show is produced by Shaftesbury Films, in association with CBC, ITV Studios Global Entertainment and UKTV with the participation of the Canada Media Fund, the Canadian Film or Video Production Tax Credit, the Ontario Film and Television Tax Credit and the COGECO Program Development Fund.
Opening Credits
Executive Producer
Christina Jennings
Peter Mitchell
Yannick Bisson
Producer
Stephen Montgomery
Julie Lacey
Shauna Jamison
Consulting Producer
Michelle Ricci
Alexandra Zarowny (Season 2)
Co-Producers
Jordan Christianson
Simon McNabb
Co-Executive Producer
Executive Story Editor
Paul Aitken
Carol Hay
Michelle Ricci
Laura Phillips (Season 2)
Composer
Editor
Vesna Svilanovic, cce
Don Cassidy, cce (Season 2)
Original Series Design
Production Designer
Armando Sgrignuolo
Lindsey Hermer-Bell
Director of Photography
James Jeffrey csc
Yuri Yakubiw, csc
David Perrault, csc (Season 1)
Writers
See Writers Room
Directors
See Directors
End Credits
Creative Consultant
Casting
Diane Kerbel
Costume Designer
Alexander Reda
Art Director
Bob Sher
Property Master
Best Boy Electric
Chris Zacharuk
Key Make Up Artist
Deb Drennan
Key Hair Stylist
Shirley Bond
Story Editor
Mary Pedersen
Bobby Theodore (Season 2)
Trivia
Gallery
Ad blocker interference detected!
Wikia is a free-to-use site that makes money from advertising. We have a modified experience for viewers using ad blockers

Wikia is not accessible if you've made further modifications. Remove the custom ad blocker rule(s) and the page will load as expected.