"Artful Detective" is the eighteenth episode of the eighth season of the Murdoch Mysteries and the one hundred-fourteenth episode of the series. It first aired March 30, 2015.
The constabulary investigates what they believe is a "sequential killer" that Murdoch discovers is a macabre form of gambling. The gamblers then turn their attention to Murdoch.
Crabtree is preoccupied with the physical abuse sustained by his ex fiancee Edna Brooks at the hands of her recently returned husband.
Character Revelations
Edit
Murdoch invents a prototype of the Taser.
Continuity
Edit
Historical References
Edit
The Weaponized Capacitor (Murdochian taser) voted #5 of 5 Favourite Murdoch Inventions[1] by The Arts Guide 8/20/15 Adnan M.
Murdoch Mysteries is broadcast in the United States as "The Artful Detective".
Main Cast
Edit
Yannick Bisson as William Murdoch
Hélène Joy as Julia Ogden
Thomas Craig as Thomas Brackenreid
Jonny Harris as George Crabtree
Georgina Reilly as Emily Grace
Recurring Cast
Edit
Lachlan Murdoch as Constable Henry Higgins
Kristian Bruun as Constable Slugger Jackson
Sara Mitich as Lillian Moss
Tamara Hope as Edna Brooks (née Garrison)
Percy Hynes-White as Simon Brooks
Guest Cast
Edit
Chris Hoffman as Bernie King
Peter Krantz as Big Game Hunter
Jim Annan as Arnold Paulson
Ruth Madoc-Jones as Mrs. Richards
Robert Gerow as Street Boy
Kaitlin Kozell as Young Mother

Uncredited Cast
Edit
John Stead as Bill McCann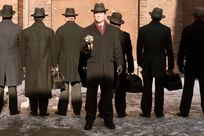 Ad blocker interference detected!
Wikia is a free-to-use site that makes money from advertising. We have a modified experience for viewers using ad blockers

Wikia is not accessible if you've made further modifications. Remove the custom ad blocker rule(s) and the page will load as expected.